Graphic Design & Visualization
A

 

full array of premium graphic design and visualization

 

services

 

for assisting clients with their communication needs. 
well-established track record
Martinez Geospatial has a well-established track record of providing a full array of premium graphic design and visualization products for assisting clients with their internal and external communication needs. Our highly-skilled staff of visual artists and technicians utilize an extensive assortment of software packages to produce a wide variety of two-dimensional (2-D) and three-dimensional (3-D) products ranging from corporate logos to photorealistic architectural renderings to fully-interactive animated simulations that transform ideas into reality.
Graphics
Graphic design is the art and practice of visual communication, where ideas are projected through the proper use of typography, imagery, space, and color. We work closely with each client to understand their goals and develop a customized plan of graphic products and services for design visualizations. This may involve developing a wholly new and original design or the reimagination of an existing design. Our visual artists can create corporate or event-specific logos for use on business cards, letterhead, brochures, flyers, newsletters, posters, displays, and the Internet for building brand identity. We can also develop detailed maps, floor plans, technical drawings, or creative infographics designed to communicate critical points on exhibits, marketing materials, or presentations. These graphics can help you sell people on your vision as well as sell more products. Our team understands what's needed for effective graphic communications thanks to our years of experience.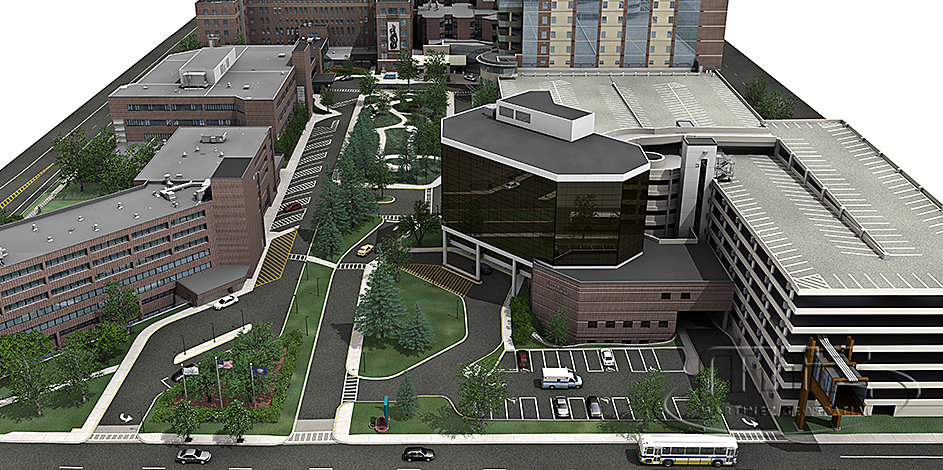 Renderings
In graphic design, rendering is the process of add shading, color, and lamination to a computer model to create a life-like image. Our visual artists can simulate proper lighting and materials to create visually stunning, photorealistic 2-D and 3-D architectural renderings which show the attributes of the existing conditions or proposed design. Design visualizations make it possible to experiment with various proposed building designs and other visual aspects well before the project enters the construction phase. Renderings play a significant role in the interior and exterior design analysis, community planning, presentation and marketing purposes, and residential and commercial real estate sales.
Animation
Unlike some renderings which are limited to a single point of view, animated simulations provide the user with a complete 3-D environment to better convey the spatial relationships of the features within an area of interest. Our accomplished staff of visual artists and technicians can use aerial or ground-based photography, mobile or static LiDAR (Light Detection and Ranging) point cloud data, spatial models, or conceptual ideas to create visually stunning, fully-interactive models and fly-thrus for displaying existing, proposed, historical, or simulated conditions.
And not only can the viewpoint within an animated model change, but we can also animate specific features within the model itself, such as people, vehicles, water, and objects blown by the wind to provide the most realistic view of the project area. Time-lapse simulations can be applied to the models to show changing environmental conditions; illustrate development, construction, or historic preservation progress; or for use in light and shadow studies (sciography).
Deliverables
Our company utilizes a wide variety of industry-standard software packages to create attractive and purposeful graphic design and visualization products designed to draw the eye of colleagues, clients, vendors, investors, or the general public. We meet with clients and discuss their project goals, then create a comprehensive plan for their project, drawing from our extensive list of in-house services. The results are projects you will be proud to show your customers, clients, and others.
Graphic Image Files
Photorealistic Still Renderings
Fully-Interactive Virtual Tours
Walk-Thru/Fly-Thru Animation
Shadow Study (Sciography) Animation
Time-Lapse Montage Video
Martinez Geospatial
2915 Waters Road, Suite 100
Eagan, MN 55121
Phone: 651-686-8424
Fax: 651-686-8389