GEOSPATIAL SERVICES IN SUPPORT OF AIRPORT PLANNING & ENGINEERING
FIELD-SURVEY, PHOTOGRAMMETRY, LIDAR, ARCHITECTURAL MODELING
Geospatial Professionals With Expertise In Aviation
Martinez Geospatial (MTZ) is nationally recognized as a leading provider of geospatial services in support of airport planning & engineering. We not only have expertise within the geospatial industry, but professional credentials within the aviation industry; this allows us to provide a consultative approach to airport planning & engineering projects at a level far above most other geospatial providers. We are committed and deeply invested in the aviation industry and that shows in our services and products.
MTZ has a wealth of experience working on projects that involve the Federal Aviation Administration (FAA). In particular, we have specific expertise in the FAA's Airports Geographic Information System (AGIS) Program. We have been heavily involved in the FAA-AGIS Program since its inception, having an important role in the FAA's Pilot Program for Electronic Airport Layout Plans (eALP).
Our team of professionals takes great pride in staying ahead of the curve on FAA standards and specifications concerning airport data collection, contained in the FAA Advisory Circulars AC 150/5300-13, 16, 17, and 18. We also take pride in staying on the cutting edge of technology and constantly looking for ways to better serve airport customers and their individual and ever-evolving needs.
MTZ has repeatedly demonstrated the ability to successfully deliver robust datasets and produce high-quality products, meeting the unique specific needs of the airport while also adhering to federal government guidelines. We have proven success at small General Aviation Airports, the nation's largest most complex Commercial/Part 139 Airports, and everything in between. Our impressive résumé is not a cumulative result of many satellite offices spread throughout the country; rather, our expertise and work history is the result of our cohesive and experienced team located at our Minnesota headquarters.
Solutions For Airport Planning & Engineering
We offer a variety of geospatial solutions to meet the needs of diverse airport planning & engineering efforts. We have successfully applied the geospatial sciences to the following airport project-types:
Airport Layout Plans
Airspace Studies
Airport Terminal Facility and Hangar Architecture & Design (Expansion/Renovation)
Runway / Taxiway / Apron Construction & Rehabilitation
Runway Threshold Relocation & Threshold Siting
NAVAID Installation
Geographic Information Systems
We offer the following services to service airport planning & engineering clients:
Photogrammetric Obstruction Surveys/Airport Airspace Analysis (AGIS, Part 77, Threshold Siting, TERPS
Planimetric/Topographic Mapping
Aerial Imagery Acquisition
Digital Ortho Photography
NAVAID Survey
Runway Survey
High-Definition Laser Scanning (Terrestrial LiDAR)
Mobile-Mapping (Vehicle-Mounted LiDAR)
3D Architectural/BIM Modeling
3D Visualizations
GIS Data Formatting & Attribution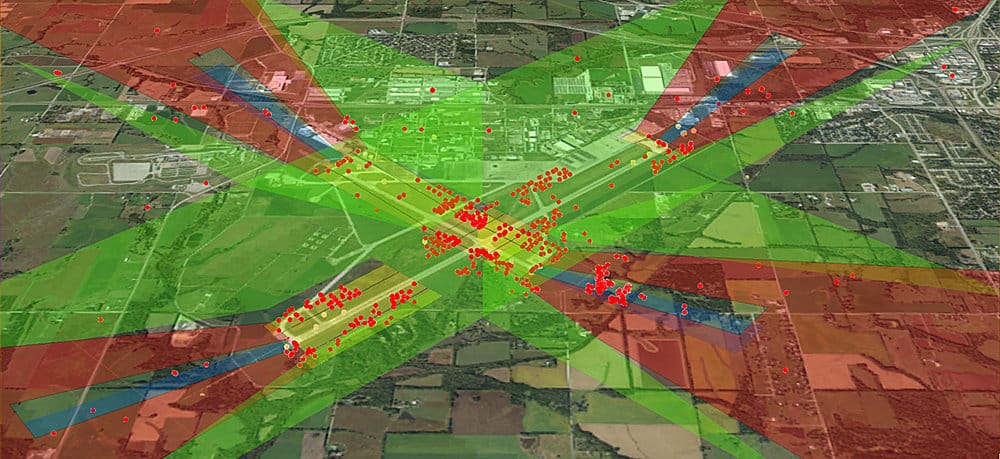 Martinez Geospatial
2915 Waters Road, Suite 100
Eagan, MN 55121
Phone: 651-686-8424
Fax: 651-686-8389