Photogrammetry
We use photogrammetry technology to provide high-detail surface models and planimetric feature layouts.
Art, Science & Technology
The American Society for Photogrammetry and Remote Sensing (ASPRS) defines Photogrammetry as 'the art, science, and technology of obtaining reliable information about physical objects and the environment, through processes of recording, measuring, and interpreting images and patterns of electromagnetic radiant energy and other phenomena.' We use this photogrammetry technology to provide high-detail surface models and planimetric feature layouts to our clients. By collecting information with a technician in an office rather than being collected by a land surveyor in the field, aerial photogrammetry can provide more quick, safe, and cost-effective solution for large and/or hazardous project areas than using traditional land surveying methods.
Close-Range Photogrammetry
Close-range photogrammetry (CRP) involves acquiring imagery with a camera that is flying low, or in the near vicinity of the study area. Any type of camera (metric or non-metric) is capable for use with CRP and can be mounted to a vehicle, such as an Unmanned Aerial System (UAS), attached to a tripod, or even hand-held during acquisition. Triangulation is performed on the resulting overlapping images to create three-dimensional (3-D) environments from which CADD drawings, surface models, spatial models, point clouds and/or digital orthophotos can be created. We are currently perfecting workflows for quick and effective deployment of our UAS systems.
CRP has several indoor and outdoor applications, including measuring and modeling buildings, bridges, and other structures; calculating stockpile quantities; and creating a permanent 3-D record of accident scenes, artwork, and/or archaeological artifacts.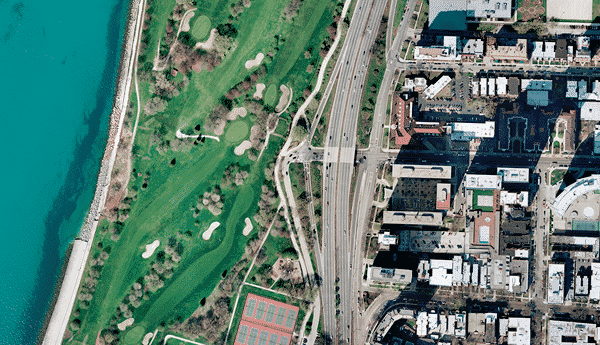 Surface Collection
We have been providing clients with premium aerial mapping and photogrammetry services for over four decades, and have successfully completed strip and block mapping projects varying in size from a single stereo model to more than 1,000 models using vertical aerial imagery acquired from both aerial film cameras and digital sensors with photo scales ranging from 1"=80' to 1"=2,500'. Building on a tradition of genuine client relationships, consistent protocols, and personalized services, we always promise excellence in product quality and customer service from the initial planning stage through the entire duration of the project.
Martinez Geospatial's Photogrammetry services include:
Flight Mission Planning
Ground Control Layout / Survey
Image Processing / Dodging
Full Analytical Aerotriangulation (FAAT)
Orthophotography Production
Planimetric / Topographic Mapping
Terrain / Surface Modeling
Contour Generation
Quantity Calculations
Airspace Analysis / Obstruction Surface Surveys
GIS Attribution and Formatting
Land Use / Environmental Change Analysis
Expert Witness Testimony
Graphics & Visualization Services
Markets
Aerial photogrammetry is utilized by both public and private engineers, surveyors, planners, developers, lawyers, archeologists, and scientists for a wide range of analysis, design, and mapping applications.
Among the various industries serviced by Martinez Geospatial are:
Agriculture
Airports
Cartography & GIS
Flood Risk Assessment
Forestry
Landfills / Mines / Quarries
Military Intelligence / Reconnaissance
Pipelines
Railways (Heavy & Light)
Roadways
Shoreline Erosion
Site Development
Transmission / Distribution Lines
Wind Farms Services
Photogrammetry Deliverables
We use aerial and ground-based photogrammetry to create a wide variety of customized two-dimensional (2-D) and three-dimensional (3-D) products in numerous industry-standard formats specially designed to meet the unique requirements of each project. The digital mapping files are compiled to meet the accuracy standards developed by the American Society for Photogrammetry and Remote Sensing (ASPRS), the Federal Geographic Data Committee's (FGDC) National Standard for Spatial Data Accuracy (NSSDA), and/or United States National Map Accuracy Standards (NMAS).
Typical aerial mapping and photogrammetry deliverables include:
2-D Digital Orthophotography
Planimetric / Topographic CADD Drawings
Digital Terrain Models (DTM) / Digital Elevation Models (DEM) / Triangulated Irregular Network (TIN) Files
GIS Shapefiles
Quantity Calculations
Land Use / Environmental Change Analysis Reports
Legal Exhibits
Aerotriangulation Support Files
Martinez Geospatial
2915 Waters Road, Suite 100
Eagan, MN 55121
Phone: 651-686-8424
Fax: 651-686-8389