Geometric Orthophotography
Capturing and processing aerial imagery, camera data, and

 

aerotriangulation

 

results to create geographically-correct digital images 
accurate distance and measurements
Orthophotography is created from aerial photography by adjusting the imagery for lens distortion, camera tilt, and topographic relief so that it has a uniform scale, and is thus an accurate representation of the Earth's surface. The geometrically-corrected (orthorectified) orthoimagery has the same lack of distortion as a map while still providing all of the visual content of a photograph. Orthophotography is typically geo-referenced, as well, which establishes their location in terms of a known coordinate system. These qualities enable orthophotography to be used for accurate distance and direction measurements, size and shape determinations, area calculations, and coordinate extraction. Digital orthophotography can be produced from film, digital, or thermal aerial imagery, and delivered in black-and-white, natural color, color infrared, or thermal color bands.
Expert Geometric Orthophotography
Our digital orthophotography services include capturing and processing aerial imagery, camera data, and aerotriangulation results to create geographically-correct digital images. We then create a three-dimensional (3-D) digital elevation model (DEM) from the stereo images, which will be used to orthorectify the geo-referenced aerial imagery. The DEM allows photography taken of a 3-D surface to be rectified to an accurate two-dimensional (2-D) orthoimage by removing distortions in the aerial photography caused by changes in land elevation. The DEM may include treetops, rooftops, and other natural or manmade features, as well as the ground surface where it is exposed. Martinez Geospatial corrects bridges and overpasses for bend, wave, or displacement to retain their correct horizontal location and geometry. Our team can also create "true" orthophotography, which also correct for the distortion of buildings and other elevated structures.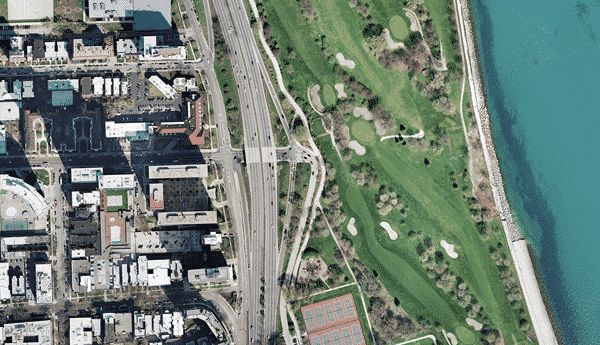 Pixel Resolution
Digital orthophotography is a process for generating a raster image made up of individual pixels. Each pixel in an orthophoto represents an actual distance on the ground called the ground sample distance (GSD). The smaller the pixel size, or GSD, the higher the resolution of the image and the more detail you can see as you zoom in closer on an image. High-resolution orthophotography allows for better feature identification and more accurate digitizing applications. However, higher resolution orthophotography requires more imagery acquired from a lower altitude and additional processing time to produce – and also result in larger file sizes – than low-resolution orthophotography of the same area. We work closely with our clients to determine the optimal GSD for the digital orthophotography based on the goals of the project.
Photo Mosaics
Our team joins together the individual digital orthophotography to create a single mosaic of the entire area of interest. The digital images will be edge-matched with no pixel gaps or overlaps between geographic partitions to ensure the edges of each image match precisely with the edge of each adjacent image. We match the density of the orthoimages, and interactively selects join lines between overlapping images to minimize tonal variations and visible join lines. We manually place seam lines along natural ground features, whenever possible, to create a "seamless" orthophoto mosaic. Seam lines will never cross through buildings, bridges, or other fabricated structures not at ground level. Areas for which imagery is not available (void areas) are typically made black.
Photo mosaics can be used for project plans, public meetings, marketing, informative displays, and other uses. They provide an excellent tool to showcase the entire image when it is impossible to capture it in one frame. Computer manipulation of the images truly gives a seamless look to any combination of images.
Markets
Like any photograph, digital orthophotography can be used as a visual reference and are often a stand-alone product. However, since orthophotos also have the qualities of a map, they can be used to generate other relevant mapping data, as well. Orthophotography is commonly used as a background base map for digitizing line work, adding text annotations, and/or placing geographic symbols to represent the features present in the imagery for use by engineers, surveyors, planners, developers, lawyers, archeologists, scientists, and emergency responders for a wide range of analysis, planning, design, and cartographic applications.
Among the numerous industries which utilize orthophotography are:
Agriculture
Airports
Cartography & GIS
Economic Development Analysis
Emergency Response
Flood Risk Assessment
Forestry
Landfills / Mines / Quarries
Law Enforcement
Military Intelligence / Reconnaissance
Pipelines
Property Management
Public Health Agencies
Railways (Heavy & Light)
Roadways
Shoreline Erosion
Site Development
Tax Assessment
Transmission / Distribution Lines
Wind Farms
Orthophotography Deliverables
We take tremendous pride in producing digital orthophotography that is both visually appealing and geometrically accurate. Our experienced team of highly-skilled technicians analyzes the imagery to determine the lightest and darkest areas of the project, which is used to determine a final histogram before the dodging process to ensure proper tone balancing and overall image quality. The images will be clear, sharp, and evenly exposed with constant image tone across the entire project area (i.e., minimal "checkerboard" effect). We also perform a final image enhancement process at the end of the project to ensure the entire project area has a uniform density, contrast, and tone. Particular attention is paid to areas of shadow to ensure the clarity is sufficient to determine features within those areas. The resulting digital images will be sharp and clear and show the level of detail present in the original imagery. We always consider how the representation will look both digitally and as hard copy plots.
Standard orthophotography deliverables include:
Digital Image Files
World Files for Geo-Referencing
Digital Elevation Model (DEM)
Hard Copy Plots
Martinez Geospatial
2915 Waters Road, Suite 100
Eagan, MN 55121
Phone: 651-686-8424
Fax: 651-686-8389